SMDC Shore 2 Residences - LOCATION
Shore 2 Residences is located beside Shore Residences Phase 1. E-commerce centers are starting to rise like mushrooms within the vicinity as BPO sectors are growing; therefore getting a place near the area is a necessity. For travelers and wanderlusts, transportation services are just around the corner and the airport is just approximately 20 minutes (est. 6.8 km) away from this area. For those individuals who love to eat and make their tummies the happiest, you can choose among the best fine and casual dining restaurants within the area.
Aside from the main attraction that it is near SM Mall of Asia and The Bay, huge casinos like Solaire Casino, Resorts World Bayshore and City Of Dreams are another fascination that surrounds Shore 2 Residences. Conventions and Hotels are just neighborhoods once you choose this so called 'private island' of yours. You can also have the majestic view of the yearly event like 'Pyrolympics' right in front of your window.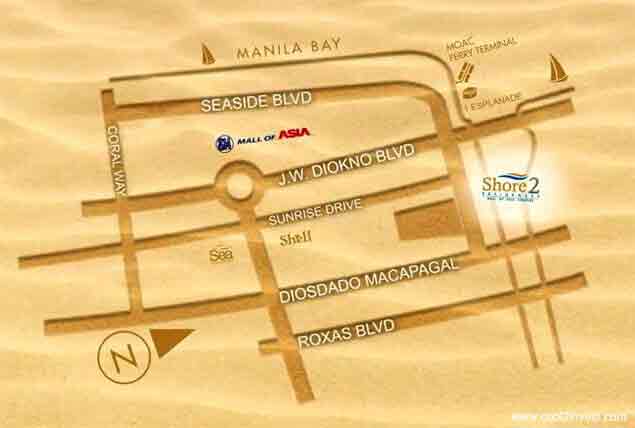 Location And Vicinity Of Shore 2 Residences
If you are looking for a place to settle you definitely need to consider the location and its environs. This is because you need a place that is convenient for you in all aspects. Shore 3 residences ensure that you have everything within reach. This property is conveniently located right at the Mall of Asia Complex in Pasay City; it gives you the feel of owning a private island right in the middle of the lively city. Its pathways are in the midst of beautiful shrubbery, the view is so magnificent it will be hard for you to believe that you are still in metro Manila. You can imagine living in your dream home and yet have everything that you need basically surrounding you. You do not need visas, passports to travel to experience a luxury life. The 3 tower, 8 storey high development brings paradise to you. This property has basically turned your dreams into reality and all you need to do is live your dream; simple as that.
The shore 2 residences happen to be the second phase of the new style of suburban development of the shore residences. This property has easy access to all the places of your interest. This is why you need to make an appointment and get a home at this development and experience a life that others can only dream.

What Are The Places Of Interest Around Shore 2 Residences?
Being located just beside shore Residences Phase 1, you get to enjoy a wide range of facilities near the property. At this development you do not have to change your lifestyle to fit in, if anything the shore 3 residences just improve your lifestyle. Before settling in a place you might also want to learn something about the growth of the area. Well, you will be impressed to learn that E-commerce centers are starting to rise rather rapidly within the locale. So you can see getting a home around the area should be a necessity. When you settle in this particular community you will not have to deal with transport issues. If you are the kind of person who travels a lot, then you will be happy to learn that you can easily access the airport which is approximately 6.8 kilometers; about 20 minutes drive. In case you ever need taxi services, you will also get them easily given that they are just around the corner of your place of residence.
When you are a resident at the shore 2 residences, you will also enjoy dining at some of the best restaurants within the vicinity. Here you can sample various cuisines at your comfort. Did you know that if you got a place here, you would be living right next to one of the major attractions in Philippines? SM Mall of Asia and the Bay. You can enjoy shopping at the spectacular mall where you can get everything meaning you will never have to travel long distances for your needs. If you are a fun of casinos, you will be happy to know that famous casinos such as Solaire Casino are just within the vicinity. As it is, you get to enjoy all the amenities at the comfort of your community. Also, the City of Dreams and the Resorts World Bayshore are within the development's surrounding. If you ever need to hold events or conventions, you do not have to worry about the place to host your guests. This is because hotels and convection centers are basically in your neighborhood when you choose to have a home in the private island. The other thing you will enjoy from the comfort of your home is the Pyrolympics; this is a yearly event; something not many people get to experience. The only way you can get to have this once in a lifetime experience is by getting yourself a home at shore 2 residences.